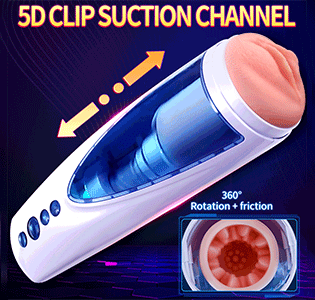 Auto stroker is the best masturbator for men on the market. It has 10 rotating modes and 10 thrusting modes, giving you a variety of options to help you enjoy the various stimulation. The auto stroker will move up and down your cock, stimulating you with every stroke. Built-in special convex granules, just the right friction will enhance your pleasure. With other dildo, vibrators, penis ring, pocket pussy, this male auto stroker is your another collection.
A detachable cup is the best advantage of this auto stroker, you can take out the inner sleeve and clean it completely. First, you need to unscrew the upper cover, then put your finger into the cup, grab the groove, pull out the entire inner cup, and finally clean the inner sleeve and dry it. Do not wash the whole cup underwater.
Made of Eco-friendly silicone material, this auto stroker is so soft but full of granules, giving you the pleasure of friction to enhance the stimulation of your orgasm. And of course, using the right amount of lubricant can make it easier for you to get in, and it can also enhance the sense of pleasure.
Just like other ordinary male masturbators, this auto stroker is USB rechargeable, so there's no need to change batteries, and you can charge it in a more convenient way.
All of our adult sex toys including this auto sroker will be delivered to you in discreet packaging, and we take your privacy very seriously. If you meet any problems with this auto stroker, or other after-sale services, please feel free to contact us.
Why choose this auto stroker?
Powered by a strong motor, this auto stroker provides 10 powerful thrusting and rotating modes for you to choose from, which help you to enjoy all kinds of stimulation.
Unlike an ordinary automatic masturbator that barely move up and down, the unique Thrusting and rotation mechanism puts a whole new spin on male masturbation.
The auto stroker has a realistic vagina for a tight feeling.
Different Thrusting & Rotation Modes
The auto stroker with 10 powerful thrusting rotating modes provides you with a completely different kind of realistic sexual intercourse.
The auto-rotation and telescopic modes bring a whole new experience to your masturbation.
Please fully charge this sex toy before using it. Use the recommended charging cable in the packaging.
Please take out the inner sleeve out and clean it before using it.( Not wash the whole product, as the engine motor section is not waterproof).
Water-based lubricant is recommended.
If you feel any discomfort, please stop using it.
If the product shutdown automatically, please charge it in time.
Soft Sleeve
The lifelike inner wall is convex with a convex structure, that will provide more intense stimulation.
The sleeve is enough soft to feel like a real body! It imitates the realistic touch of a woman's vagina.
How to use this auto stroker?
Short press the 3rd on/off button, the light will be flashing, and press the on/off button again to turn on the thrusting & rotating function, a total of 10 Modes.
Once the thrusting & rotating function start, and Insert to enjoy it.
After turn on the product, short press the 1st button to strengthen thrusting speed, total 10 speeds, and short press the 2nd button to weaken thrusting speed.
Long press 3rd on/off button to turn off the product.
After turn on the product, press the 4th speaker button to turn on the voice function (an earphone should be used).
Shipping
Free Shipping Over $99
4 ~14 days fast delivery ( USA, Canada, Australia, The United Kingdom, France, Germany, Spain, Italy )
5 ~16 days delivery for other European countries
7~ 20 days delivery for the rest of the countries
100% discreet packaging (There would be a normal box outside our packaging.Neither company name nor product name would be seen on the box, So, you don't need to worry)
Due to the impact of the COVID-19, the shipping may be delayed. However,we will do our best efforts to deliver the package safely and quickly.If you have any questions during this period, please contact us at [email protected].
The shipment will be arranged within 36 hours after the order has been placed. As soon as the Logistic company provides us the tracking number, SANMEI will provide it to you via email. (usually takes 48-72 hours)
Returns & Warranty:
We offer returns or refunds for arriving damaged or defective items. Damages caused by improper operation, overused abrasion and disassembling the product are excluded from our warranty terms. If you're experiencing the defects, please email our Customer Support at [email protected]
We offer a 30-day no risk money-back guarantee and 45 days manufacturer warranty. Refunds and replacements for damaged or defected products within 30 days after the delivered date. If you feel your product has a manufacturing defect, please email us via [email protected](Tips: Please attach photos, order number and a short description of the defective products which will accelerate the process.) The period for getting a refund is usually within 7 days.