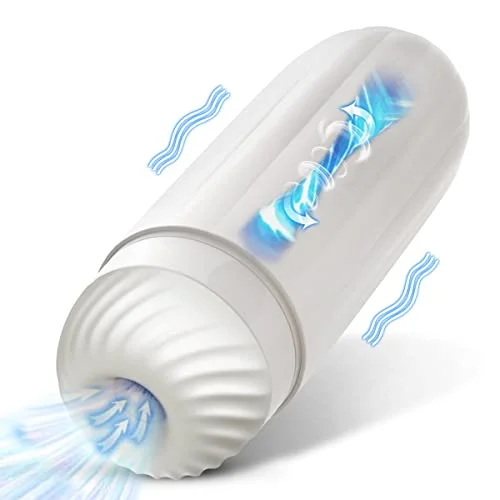 SVAKOM Automatic Sucking Masturbator Cup
SVAKOM Male masturbation cup is the must! With a powerful and automatic vacuum suction pump, airflow will be sucked into the cup, causing the internal stroker to squeeze and expand. The penis will automatically thrust with every breath and swallowing. SVAKOM automatic male masturbator engulfs and kisses your glans gently as your naughty girl does, brings you a real oral blowjob sensation, deep throat pleasure and mindblowing orgasm.

Ultra Soft Pocket Pussy Sleeve &Exquisite Looking Design
SVAKOM pocket pussycat is well-crafted by TPE, odorless. Very Soft flesh light like real girl's skin, stretchy & flexible to meet any size and girth. Use with water-based sex lube to get the watery, firm & real sense of wrapping. Provide overwhelming blowjob sexual penis stimulation, designed to tirelessly stimulating each bit of your anatomy.

5 Powerful Blowjob Suction &Vibration Modes Male Self-pleasure Toys
Modes are 1* suction, 1* vibration, 3* suction & vibration. An exciting fusion of a blowjob vacuum-like effect and fierce vibrations for you, a once-in-a-lifetime experience. A non-stop ride of ecstasy for over an hour. No more time limitations, just sit back and relax. Just take your SVAKOM Men Masturbation Toy.

Easy Cleaning Electric Stroker Sleeve
This man masturbation toy is detachable. When you first receive this sex toy, we recommend detaching the inner TPE sleeve and rinsing it off underwater before using it for the first time. Just pull it out and flush, then dry it. After each use, the sleeve can be washed in warm water and mild soap and rinsed to dry.
Why Choose SVAKOM SVAKOM S08C Sam Neo(Xuanwobei) Male Masterburbator Toy?
Material: Silicone, ABS, TPE
Size: 82*82*235.8mm
Weight: 700g
Battery Type: Rechargeable Polymer Lithium Battery
Battery Capacity: 1000 mAh
Charging time: 3 hours
Using time: 1 hours
Modes: 1*suction; 1* vibration; 3* suction + vibration
Ultra Soft, Flexible and Stretchy Masturbator Sleeve Fit for Most Sizes with SVAKOM 3D Realistic Texture Channel Masturbators Sleeve
How To Use and Clean Electric Masturbator Cup after Masturbation?
1. Take out the stroker sleeve to clean before use it.
2. Only use water-based lubricant. Recommend SVAKOM Water-based Lube for better sex pleasure.
3. Charging the automatic sucking male masturbator each time for optimal performance.
4. Keep it away from children.
Care Instructions
1. After use, remove the sleeve from the masturbator stroker casing and then run water through the central to get rid of any lubricant or physiological fluids.
2. Next, towel or air dry the masturbator sleeve.
3. Then sprinkle a little Flesh light Powder or even some baby powder/corn flour over the add and it will feel as silky smooth as the day you purchased it.
Shipping
Free Shipping Over $99
4 ~14 days fast delivery ( USA, Canada, Australia, The United Kingdom, France, Germany, Spain, Italy )
5 ~16 days delivery for other European countries
7~ 20 days delivery for the rest of the countries
100% discreet packaging (There would be a normal box outside our packaging.Neither company name nor product name would be seen on the box, So, you don't need to worry)
Due to the impact of the COVID-19, the shipping may be delayed. However,we will do our best efforts to deliver the package safely and quickly.If you have any questions during this period, please contact us at woocidy20210504@163.com.
The shipment will be arranged within 36 hours after the order has been placed. As soon as the Logistic company provides us the tracking number, SANMEI will provide it to you via email. (usually takes 48-72 hours)
Returns & Warranty:
We offer returns or refunds for arriving damaged or defective items. Damages caused by improper operation, overused abrasion and disassembling the product are excluded from our warranty terms. If you're experiencing the defects, please email our Customer Support at woocidy20210504@163.com
We offer a 30-day no risk money-back guarantee and 45 days manufacturer warranty. Refunds and replacements for damaged or defected products within 30 days after the delivered date. If you feel your product has a manufacturing defect, please email us via woocidy20210504@163.com(Tips: Please attach photos, order number and a short description of the defective products which will accelerate the process.) The period for getting a refund is usually within 7 days.