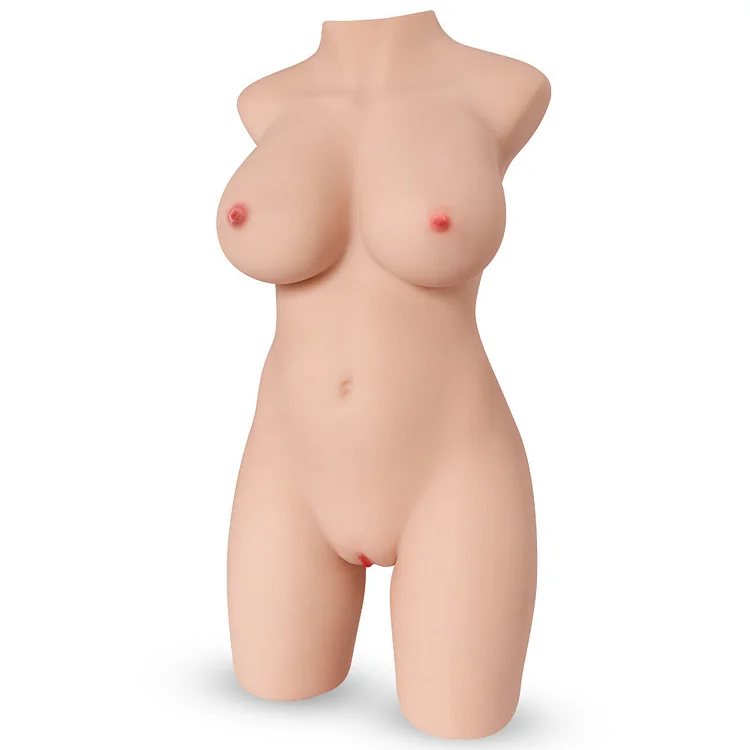 Firm And Huge Boobs. They are the Climax of An Orgy!
The bust measurement of this beautiful sex doll's torso is 23.22 inches. Maybe you don't have a specific concept of this size, do. Does this mean she has big breasts? Yes! Her body is very petite, only 21.65 inches, and her bust is more than her body length, defined as sexy!

BBW sex doll torso
This dimension is difficult for real women, but the sex doll's torso can be perfectly reproduced! If you want to master her twin peaks with just one hand, it will take some practice. Her chest is the perfect conical shape, and the bottom of the chest is relatively small for a real woman. But she has big boobs, and the shape of her chest is firm and tapered.

BBW sex doll torso
Our sex doll not only has firm breasts but also does not sag; her breast; her the perfect female breast. You can lick her breasts wantonly and hold them gently; as you can imagine, your taste buds will enjoy unprecedented sweetness!

Realistic Tight Vagina and Anus Are Hidden Between Her Ass!
This sex doll torso has a beautiful and sexy appearance, and the inner design can also fully meet your needs.
Shipping
Free Shipping Over $99
4 ~14 days fast delivery ( USA, Canada, Australia, The United Kingdom, France, Germany, Spain, Italy )
5 ~16 days delivery for other European countries
7~ 20 days delivery for the rest of the countries
100% discreet packaging (There would be a normal box outside our packaging.Neither company name nor product name would be seen on the box, So, you don't need to worry)
Due to the impact of the COVID-19, the shipping may be delayed. However,we will do our best efforts to deliver the package safely and quickly.If you have any questions during this period, please contact us at woocidy20210504@163.com.
The shipment will be arranged within 36 hours after the order has been placed. As soon as the Logistic company provides us the tracking number, SANMEI will provide it to you via email. (usually takes 48-72 hours)
Returns & Warranty:
We offer returns or refunds for arriving damaged or defective items. Damages caused by improper operation, overused abrasion and disassembling the product are excluded from our warranty terms. If you're experiencing the defects, please email our Customer Support at woocidy20210504@163.com
We offer a 30-day no risk money-back guarantee and 45 days manufacturer warranty. Refunds and replacements for damaged or defected products within 30 days after the delivered date. If you feel your product has a manufacturing defect, please email us via woocidy20210504@163.com(Tips: Please attach photos, order number and a short description of the defective products which will accelerate the process.) The period for getting a refund is usually within 7 days.