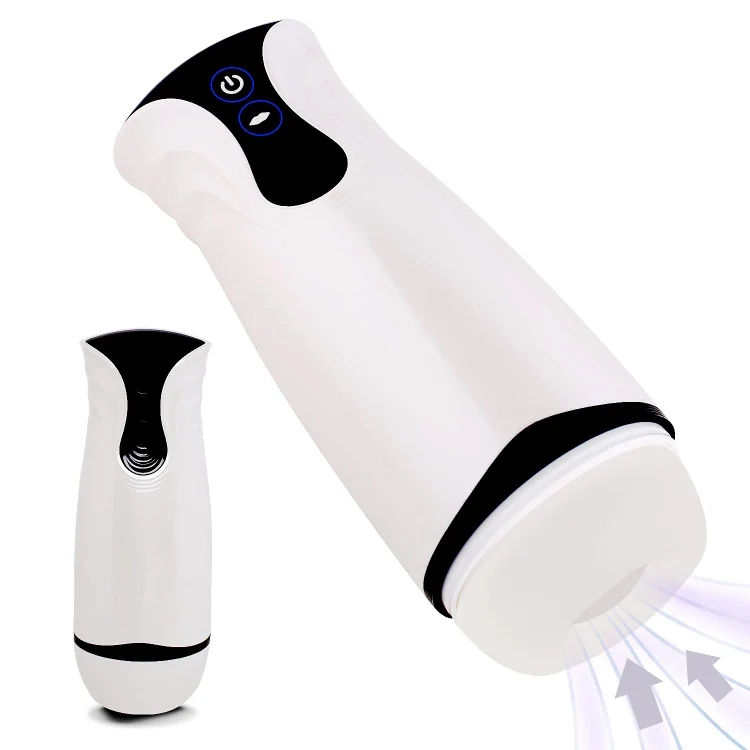 Description:
A male masturbation cup that can be cleaned automatically is attractive, isn't it? High-quality production materials, excellent workmanship, and good waterproof performance come together to achieve automatic cleaning. Just turn on the vibration function and pour your favorite cleaning liquid into the cup to save a lot of trouble related to cleaning. In addition to this user-friendly design, it has many features that allow you to have the opportunity to experience sexual bliss.
Features:
4 Suction & 10 Vibration Modes
This male masturbator toy is equipped a powerful motor with 4 suction modes and 10 vibration modes. The suction and vibration modes can be freely combined, you can match any function you like, and she will serve you faithfully! The 4 deep throat sucking modes can make you feel the pleasure of real oral sex, and the 10 powerful vibrations can make your glans receive waves of orgasmic stimulation.
Advanced Automatic Pump Sucking With 4 Swallow Modes
The sucking method of this male masturbator cup is unprecedented and completely different from the traditional oral sex toys. It will automatically clamp and suck your penis,Then you plunge into the deepest point and press her throat, she can't hold it and makes a choking sound, her throat shrinks and presses your glans which bring the 360 ° deep throat sucking feeling, your desire will be released!
The inner sleeve of this male sex toy is made of 100% Soft TPE. The material is skin-friendly and flexible. A small ring is designed at the entrance to fix the inner sleeve, so there is no need to worry about the inner sleeve being sucked into the cup. When you rub her sexy mouth with your big cock, and you' ll thrill at every slick inch of this tight pocket pussy. The firm and real sense of wrapping makes you feel like having sex with a real sex lady.
Easy to Assemble with Auxiliary Stick & Easy to Clean
The removable insert ensures clean up is fuss-free. After you finish it, you can easily take out the detachable inner sleeve and rinse it under the tap. This design completely isolate the motor from the water. After cleaning the inner sleeve and drying it, just put it into the cup with the auxiliary stick. Tip: Please fully charge before use for the best experience.
"One-Click Orgasm"Makes You Longer Harder Stronger
Adopts bowling ball design for easy grasping and clicking Orgasm button. After a period of sucking and vibrating, when you feel that you are 90% of the way to reach ejaculation, instantly press and hold the burst button, the blowjob masturbator will suck harder and vibrate violently, give you the overwhelming experience instantly. The men stroker toy also can be used as penis trainer or penis training tool to prolong sexual endurance.

Specification:
Product size: 6.26 x 2.95 x 2.87 inches;
Insertable length: 2.08"
Entrance diameter: 1.7/1.4"
Material: ABS+silicone


Package included:
1 x masturbation cup
1 x charging cable
Shipping
Free Shipping Over $99
4 ~14 days fast delivery ( USA, Canada, Australia, The United Kingdom, France, Germany, Spain, Italy )
5 ~16 days delivery for other European countries
7~ 20 days delivery for the rest of the countries
100% discreet packaging (There would be a normal box outside our packaging.Neither company name nor product name would be seen on the box, So, you don't need to worry)
Due to the impact of the COVID-19, the shipping may be delayed. However,we will do our best efforts to deliver the package safely and quickly.If you have any questions during this period, please contact us at woocidy20210504@163.com.
The shipment will be arranged within 36 hours after the order has been placed. As soon as the Logistic company provides us the tracking number, SANMEI will provide it to you via email. (usually takes 48-72 hours)
Returns & Warranty:
We offer returns or refunds for arriving damaged or defective items. Damages caused by improper operation, overused abrasion and disassembling the product are excluded from our warranty terms. If you're experiencing the defects, please email our Customer Support at woocidy20210504@163.com
We offer a 30-day no risk money-back guarantee and 45 days manufacturer warranty. Refunds and replacements for damaged or defected products within 30 days after the delivered date. If you feel your product has a manufacturing defect, please email us via woocidy20210504@163.com(Tips: Please attach photos, order number and a short description of the defective products which will accelerate the process.) The period for getting a refund is usually within 7 days.