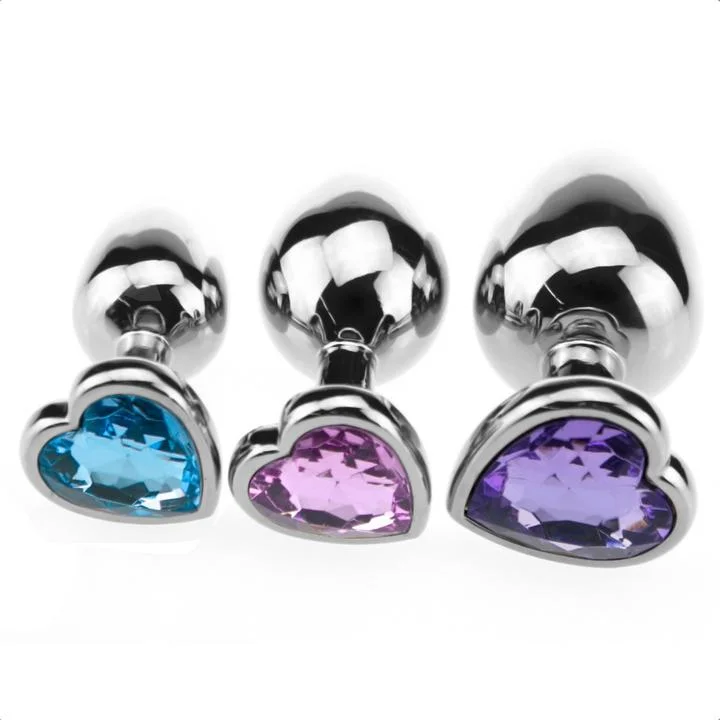 What is the most important quality for a princess to have? Is it a beauty? Nope! Grace or charm? Wrong again! What a true princess really needs is love - a strong, warm heart with the ability to love everyone around them!
With that in mind, we've designed this extra-special jeweled butt plug specifically to celebrate this most beloved of royal qualities. The latest addition to our gem butt plug collection honors the power of love with its heart-shaped jeweled design available in nine glimmering, glittering colors. Choose from ruby, diamond, rose quartz, or various shades of emerald, sapphire, and amethyst - all formed into a perfect, delicate heart that will stand out dramatically against your gorgeous ass cheeks.
What better way to say "I love you" to your partner than a heart-shaped diamond butt plug twinkling against your adorably twitching hole? Why, three heart-shaped gem butt plugs all conveying the same message, of course! What princess - or prince! - should have to settle for one butt plug, when he or she could have three instead! Yes, that's right, LovePlugs is offering you more luxury than ever before - an elegant set of three lovely stainless steel butt plugs, each set with a gorgeous heart-shaped jewel. Your Royal Highness - or would that be Your Royal Heinie? - is invited to select either a matching set of your favorite color or a delightfully mysterious mixed set of three different colors carefully chosen by our very own LovePlugs lapidaries.
From base to tip, every bit of this plug is up to perfect royal standards. It comes in a beautiful silver color featuring a distinctive, non-tarnishing metal sheen that pairs perfectly with the deep sparkle of the inset jewel. A flared base allows the jewel to sit snugly between your ass cheeks and comfortably remain there for hours or even days at a time, should that be your royal whim. The classic bulb shape combines comfort and pleasure to create a bedroom experience that is truly both erotic and luxurious.
Each plug in the set boasts a slightly different width: 1.1 inches, 1.35 inches, and 1.6 inches. There's no need to pick a favorite plug - choose the one which suits you each day based on your royal whims. A princess is never satisfied, after all, and is happiest when they have many different options to choose from.
True royalty never waits - they take what they desire! Buy this elegant heart-shaped diamond butt plug set today and you'll be the belle of both the ball and the bedroom!
Shipping
Free Shipping Over $99
4 ~14 days fast delivery ( USA, Canada, Australia, The United Kingdom, France, Germany, Spain, Italy )
5 ~16 days delivery for other European countries
7~ 20 days delivery for the rest of the countries
100% discreet packaging (There would be a normal box outside our packaging.Neither company name nor product name would be seen on the box, So, you don't need to worry)
Due to the impact of the COVID-19, the shipping may be delayed. However,we will do our best efforts to deliver the package safely and quickly.If you have any questions during this period, please contact us at woocidy20210504@163.com.
The shipment will be arranged within 36 hours after the order has been placed. As soon as the Logistic company provides us the tracking number, SANMEI will provide it to you via email. (usually takes 48-72 hours)
Returns & Warranty:
We offer returns or refunds for arriving damaged or defective items. Damages caused by improper operation, overused abrasion and disassembling the product are excluded from our warranty terms. If you're experiencing the defects, please email our Customer Support at woocidy20210504@163.com
We offer a 30-day no risk money-back guarantee and 45 days manufacturer warranty. Refunds and replacements for damaged or defected products within 30 days after the delivered date. If you feel your product has a manufacturing defect, please email us via woocidy20210504@163.com(Tips: Please attach photos, order number and a short description of the defective products which will accelerate the process.) The period for getting a refund is usually within 7 days.