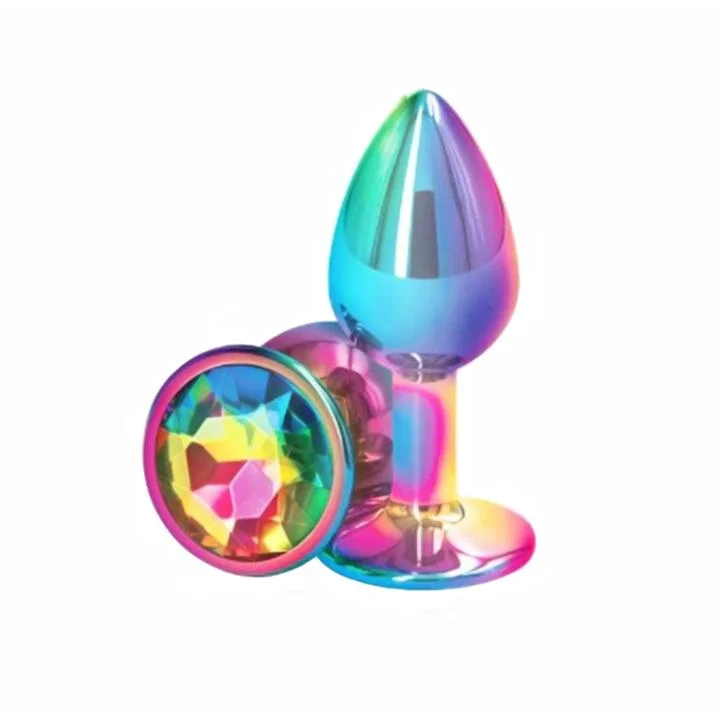 Has your Little Girl been good lately? Why not surprise her with a gift, and give her this toy? We guarantee you; she will love it!
The Jeweled Rainbow Princess Butt Plug adds sparkle, excitement, and color to your roleplay games. Its rainbow-colored metal plug features a smooth finish for an effortless glide. And since this material is temperature-adaptable, it lets you do temperature play while in action. Soak this toy in warm water for a hot and realistic feel, or drench it in cold water for some goosebumps. Either way, your Princess will love the sensations brought by this product!
But that's not the only thing that this colorful anal plug has to offer. It also has a narrow neck and a sparkling, round base. These parts ensure safe anal play, as they keep the toy in place once inserted into the anus. Furthermore, they make your Little Girl's butt pop—thanks to the acrylic crystal found at the base. We assure you; you won't be able to stop staring or even spanking her voluptuous butt!
But before you shove this toy inside her ass, you need to make sure that the plug and her butthole are well lubricated. You can use any lubricant you may have since metal is compatible with all kinds of lube. Tell her to relax and start pushing the tapered tip into her hole. You may pause for a moment if necessary, then go all the way in when she's comfortable enough to take in the toy.
When your roleplay is over, be sure to clean this tool before keeping it in the storage. Wash it with warm, soapy water or put in the dishwasher to clean this toy. Then, wipe it dry with a soft, clean cloth.
Reward your Princess for being a good girl. Get her this Jeweled Rainbow Princess Butt Plug now!
Shipping
Free Shipping Over $99
4 ~14 days fast delivery ( USA, Canada, Australia, The United Kingdom, France, Germany, Spain, Italy )
5 ~16 days delivery for other European countries
7~ 20 days delivery for the rest of the countries
100% discreet packaging (There would be a normal box outside our packaging.Neither company name nor product name would be seen on the box, So, you don't need to worry)
Due to the impact of the COVID-19, the shipping may be delayed. However,we will do our best efforts to deliver the package safely and quickly.If you have any questions during this period, please contact us at woocidy20210504@163.com.
The shipment will be arranged within 36 hours after the order has been placed. As soon as the Logistic company provides us the tracking number, SANMEI will provide it to you via email. (usually takes 48-72 hours)
Returns & Warranty:
We offer returns or refunds for arriving damaged or defective items. Damages caused by improper operation, overused abrasion and disassembling the product are excluded from our warranty terms. If you're experiencing the defects, please email our Customer Support at woocidy20210504@163.com
We offer a 30-day no risk money-back guarantee and 45 days manufacturer warranty. Refunds and replacements for damaged or defected products within 30 days after the delivered date. If you feel your product has a manufacturing defect, please email us via woocidy20210504@163.com(Tips: Please attach photos, order number and a short description of the defective products which will accelerate the process.) The period for getting a refund is usually within 7 days.