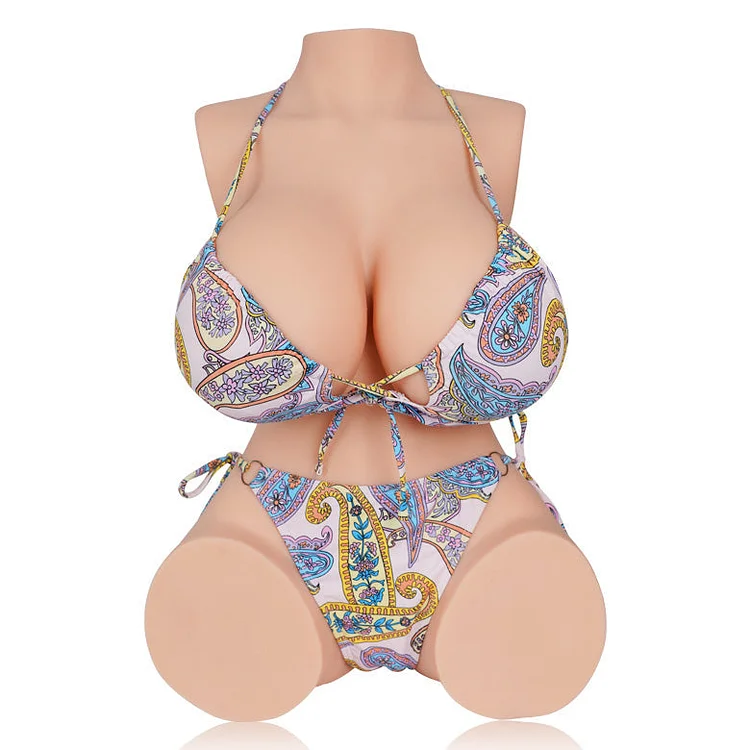 Nicole
39.6LB Lightweight Huge Papaya Breasts Sex Doll
Nicole is Tantaly's first lightweight torso sex doll who has the largest and softest papaya breasts. Using the most advanced doll design and process, Nicole's weight and breasts realize the most desirable effect, allowing you to enjoy the maximum degree of sexual reality. The lighter weight allows you to freely switch among favorite sex positions. Moreover, her breasts are huge and soft enough to shock you and completely stimulate your desire for breast play.
Weight-reduced sex dolls, better sexual experience
Nicole, Tantaly's first lightweight torso doll, has a plump, realistic body shape. Its original weight is 53lbs. The closer the doll's size is to the real person, the more realistic the experience is. But the increased weight of the doll increases the burden of use, cleaning, and it is a considerable physical challenge. Tantaly uses advanced weight reduction techniques to give Nicole the perfect balance of both. In order to balance the doll's weight, we did continuous testing and adjusting. Finally she is as light(39.6lbs) as possible and also close to realism. Tantaly will continue to use advanced industry technology to design our dolls!
The largest and softest papaya breasts
Nicole's breasts are soft enough to blow you away and totally stimulate your most primal breast desires! After many processes and adjustments, Nicole's breasts finally took on a papaya-like sagging shape, and the softness of her breasts were once again enhanced, making them the most perfectly crafted breasts among Tantaly's torso dolls. The G-cup papaya shape breast combined with the surreal realism of the touch allows you to indulge in squeezing, kneading, and thrusting. They also accompany you to feel safe and satisfied by touching her breasts while you sleep.
Incorporating a cock ring design for the tunnel
For the first time, Tantaly added a circular design to the fleshy wall of the tunnel, two inches away from the sex doll's vaginal opening. This design is inspired by the cock ring, which is a new design concept incorporated into the doll's tunnel. This design can give your penis additional stimulation, and is ideal for exercising sex endurance. The whole tunnel is intensely stimulating and can be played with for a longer period of time. The tunnel is full of particles in reasonable size, and the layer ring design in anal tunnel gives you continuous strong stimulation during intercourse.
More realistic and better experience
Realistic, plump and soft breasts, more maneuverable weight make you immerse in constant pleasure. Full-body skin texture design, delicious and juicy pussy constantly lure you into her world.(Because Nicole uses a weight loss frame, the lumbar spine part is an immovable frame, but it will not affect your sexual experience.)
Nicole's vagina is approximately 30% more stimulating compared to a regular channel. The entire channel is highly stimulating, can be played for a long time, is Tantaly specially designed for people who exercise sexual endurance or seek the ultimate sexual pleasure. The dense bulge at the entrance to her anal tunnel fully massages your member and prepares you for the cascading strokes that follow. The dual channel gives you different pleasure to enjoy every stroke.

*Because the tunnel material is elastic, it can fit any size of dick. And we recommend you to use it with water-based lubricants to prevent tearing.
Shipping
Free Shipping Over $99
4 ~14 days fast delivery ( USA, Canada, Australia, The United Kingdom, France, Germany, Spain, Italy )
5 ~16 days delivery for other European countries
7~ 20 days delivery for the rest of the countries
100% discreet packaging (There would be a normal box outside our packaging.Neither company name nor product name would be seen on the box, So, you don't need to worry)
Due to the impact of the COVID-19, the shipping may be delayed. However,we will do our best efforts to deliver the package safely and quickly.If you have any questions during this period, please contact us at woocidy20210504@163.com.
The shipment will be arranged within 36 hours after the order has been placed. As soon as the Logistic company provides us the tracking number, SANMEI will provide it to you via email. (usually takes 48-72 hours)
Returns & Warranty:
We offer returns or refunds for arriving damaged or defective items. Damages caused by improper operation, overused abrasion and disassembling the product are excluded from our warranty terms. If you're experiencing the defects, please email our Customer Support at woocidy20210504@163.com
We offer a 30-day no risk money-back guarantee and 45 days manufacturer warranty. Refunds and replacements for damaged or defected products within 30 days after the delivered date. If you feel your product has a manufacturing defect, please email us via woocidy20210504@163.com(Tips: Please attach photos, order number and a short description of the defective products which will accelerate the process.) The period for getting a refund is usually within 7 days.