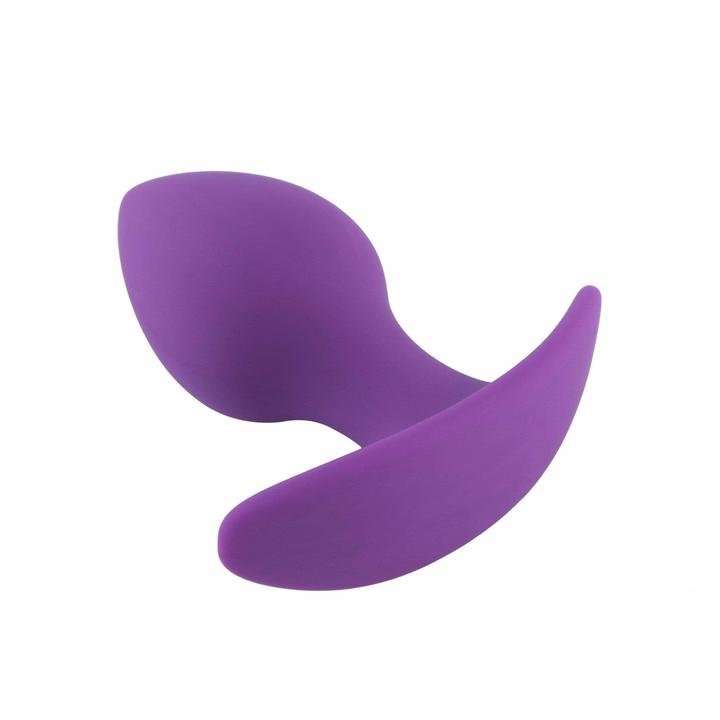 High-quality plug with an anchor base for easy, pleasurable rocking
Easy to clean
Easy to use
Great for role play
Made of high-quality body safe silicone material
Here is a perfect purple-colored butt plug with a rocking anchor base to get you to a higher level of anal arousal and sensational adventure. It is easy to play with and easy to clean after use. The Purple Anchor Base Silicone Butt Plug is made of safe premium silicone and features a comfortable anchor-shaped base for easy and pleasurable rocking. It is a perfect choice for the more adventurous butt plug users.
Take your erotic bedroom games to a more exciting level with this silicone butt plug. It is a perfect choice for intermediate and new butt plug users who want to explore the more adventurous side of anal stimulation. It is a butt plug that is truly designed to fill your bum with erotic sensations that are so titillating you'll be craving for more.
The silicone butt plug is smooth enough for easy penetration and 100% safe for your pleasurable usage, thanks to the material used to manufacture this product-- silicone. Besides the fact that silicone is flexible and squeezable, trust that it won't harm your skin because it's hypoallergenic. Meanwhile, looking at the butt plug's ergonomic design, you know that pleasure does not compromise comfort. The anchor base will secure the plug in place, preventing any unwanted travel.
If you are looking for a plain yet bold-looking silicone butt plug at the right price for your anal stimulation and erotic games, then this silicone butt plug is your best choice. You'll also love the fact that this purple butt plug is discreetly delivered. It can also be packaged in a cute box and delivered discreetly as a gift to your loved one. Nobody will know what is inside the special gift box. Your partner will thank you for it.


Shipping
Free Shipping Over $99
4 ~14 days fast delivery ( USA, Canada, Australia, The United Kingdom, France, Germany, Spain, Italy )
5 ~16 days delivery for other European countries
7~ 20 days delivery for the rest of the countries
100% discreet packaging (There would be a normal box outside our packaging.Neither company name nor product name would be seen on the box, So, you don't need to worry)
Due to the impact of the COVID-19, the shipping may be delayed. However,we will do our best efforts to deliver the package safely and quickly.If you have any questions during this period, please contact us at [email protected].
The shipment will be arranged within 36 hours after the order has been placed. As soon as the Logistic company provides us the tracking number, SANMEI will provide it to you via email. (usually takes 48-72 hours)
Returns & Warranty:
We offer returns or refunds for arriving damaged or defective items. Damages caused by improper operation, overused abrasion and disassembling the product are excluded from our warranty terms. If you're experiencing the defects, please email our Customer Support at [email protected]
We offer a 30-day no risk money-back guarantee and 45 days manufacturer warranty. Refunds and replacements for damaged or defected products within 30 days after the delivered date. If you feel your product has a manufacturing defect, please email us via [email protected](Tips: Please attach photos, order number and a short description of the defective products which will accelerate the process.) The period for getting a refund is usually within 7 days.