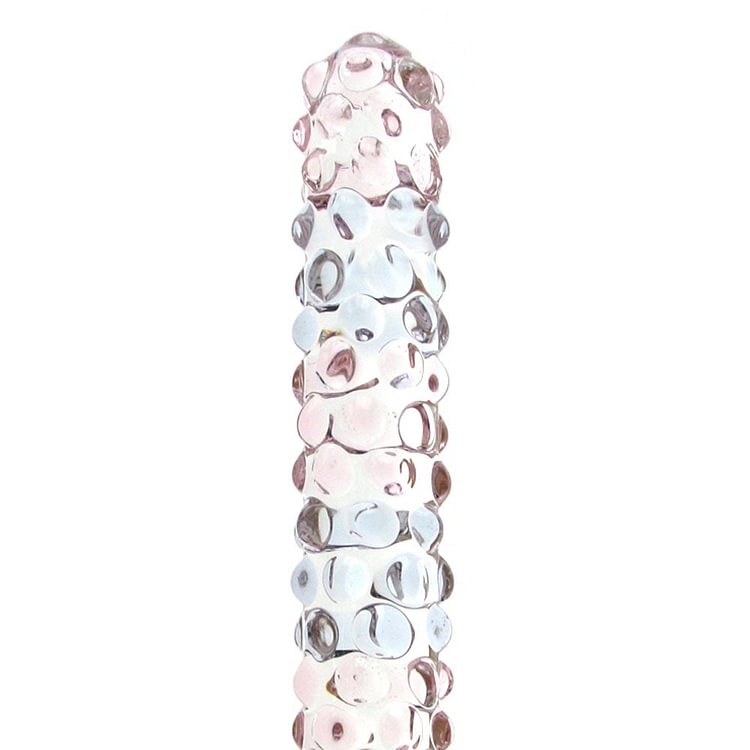 Covered, from tip to base, in firmly massaging tiny swells of pleasure, this handcrafted piece of pure luxury hails from an incredibly beautiful line of handmade, hand-blown glass offerings, each created individually and designed thoughtfully. Traditional in shape, designed for ultimate versatility, the Purple Rose Nubby can be easily and very effectively enjoyed in a variety of ways, from deep internal stimulation, to dramatically intense clitoral massage.
Classically straight, and scaled down to quite a manageable size, the Rose features a rounded, identical tip at each end, both featuring the same incredible texture as the shaft. Gorgeously colored in two subtly intermingling tones of violet and rose, this Glas piece proves as pleasing to the eye as to the body areas it's being directed toward.
Aside from its incredibly slick, pleasantly weighty, and decidedly smooth texture, glass is also incomparably hygienic, it's perfectly nonporous and absolutely seamless, presenting numerous possibilities for cleansing. The Rose can be safely boiled or bleached for total sterilization, which makes sharing possible, plus, it wipes clean with simple soap and water or a good toy cleaner. For an extra simple approach, it can even be run through the dishwasher. Glass is also amazingly receptive to temperature, warming naturally to meet body heat on contact, and able to be heated or cooled more dramatically prior to play, if desired.
Ideal for pleasure seekers with sensitive skin, glass is hypoallergenic and non-irritating, plus, it can be enjoyed with any type lubricant, massage oil or otherwise. To keep your Glas piece blissfully functional over the long-term, simply store carefully, and avoid abrasive surfaces that could scratch or chip the surface.
Specification:

Length: 7"
Insertable Length: 6"
Girth: 3.75" at largest point
Width: 1.1" at largest point
Materials: Glass
Special Features: Hypoallergenic, Phthalate-Free, Textured Surface, Waterproof
Shipping
Free Shipping Over $99
4 ~14 days fast delivery ( USA, Canada, Australia, The United Kingdom, France, Germany, Spain, Italy )
5 ~16 days delivery for other European countries
7~ 20 days delivery for the rest of the countries
100% discreet packaging (There would be a normal box outside our packaging.Neither company name nor product name would be seen on the box, So, you don't need to worry)
Due to the impact of the COVID-19, the shipping may be delayed. However,we will do our best efforts to deliver the package safely and quickly.If you have any questions during this period, please contact us at [email protected].
The shipment will be arranged within 36 hours after the order has been placed. As soon as the Logistic company provides us the tracking number, SANMEI will provide it to you via email. (usually takes 48-72 hours)
Returns & Warranty:
We offer returns or refunds for arriving damaged or defective items. Damages caused by improper operation, overused abrasion and disassembling the product are excluded from our warranty terms. If you're experiencing the defects, please email our Customer Support at [email protected]
We offer a 30-day no risk money-back guarantee and 45 days manufacturer warranty. Refunds and replacements for damaged or defected products within 30 days after the delivered date. If you feel your product has a manufacturing defect, please email us via [email protected](Tips: Please attach photos, order number and a short description of the defective products which will accelerate the process.) The period for getting a refund is usually within 7 days.