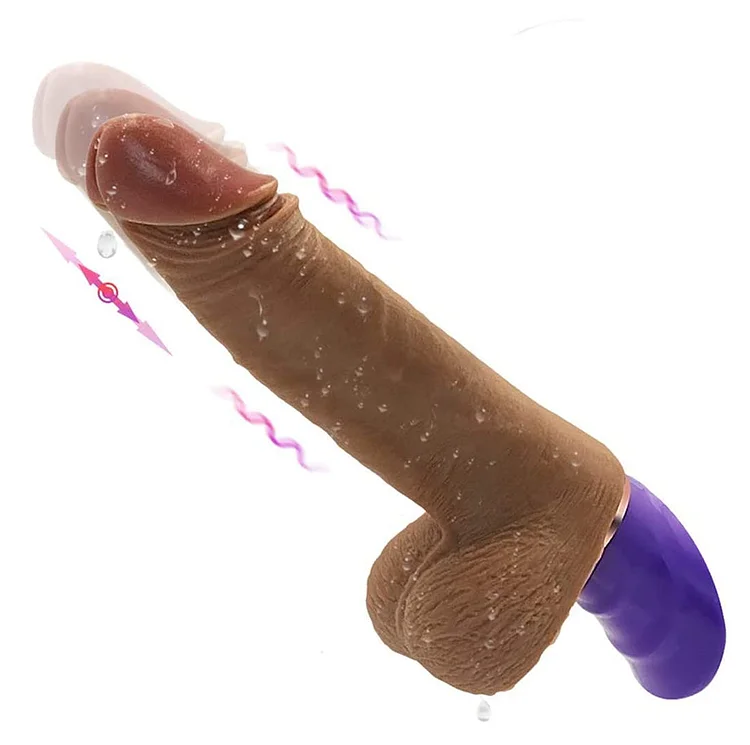 Highlights
The vibrator is made of liquid silicone, giving a realistic appearance, you can see the clear lines on the penis, the real glans and testicles of the man! The vibrating dildo is 250x85x40 mm, flexible and soft, which can easily stimulate the clitoris, vagina, anus, breasts and other sensitive areas, is the perfect tool for couples, individuals, lesbians and gays.
Powerful vibration and scalability
The dummy sun has 7 vibration frequencies and 2 expansion modes. The height and depth of 3 cm can bring a brand new G-spot experience, imitating the real sex rhythm, can easily reach the climax, and play various sex games with partners to experience unique sex life.
Safe materials and USB charging
Dildo vibrator uses skin-friendly soft silicone, which is odorless, non-toxic, and durable. A USB charging cable, a spare battery, an Android charger, and a computer are included in the package to revitalize the vibrator.
Easy to store integrated design
Compared with other telescopic dildo vibrators, we optimize the product structure to make it compact and beautiful while ensuring customer experience, making it convenient for you to carry it.
Shipping
Free Shipping Over $99
4 ~14 days fast delivery ( USA, Canada, Australia, The United Kingdom, France, Germany, Spain, Italy )
5 ~16 days delivery for other European countries
7~ 20 days delivery for the rest of the countries
100% discreet packaging (There would be a normal box outside our packaging.Neither company name nor product name would be seen on the box, So, you don't need to worry)
Due to the impact of the COVID-19, the shipping may be delayed. However,we will do our best efforts to deliver the package safely and quickly.If you have any questions during this period, please contact us at woocidy20210504@163.com.
The shipment will be arranged within 36 hours after the order has been placed. As soon as the Logistic company provides us the tracking number, SANMEI will provide it to you via email. (usually takes 48-72 hours)
Returns & Warranty:
We offer returns or refunds for arriving damaged or defective items. Damages caused by improper operation, overused abrasion and disassembling the product are excluded from our warranty terms. If you're experiencing the defects, please email our Customer Support at woocidy20210504@163.com
We offer a 30-day no risk money-back guarantee and 45 days manufacturer warranty. Refunds and replacements for damaged or defected products within 30 days after the delivered date. If you feel your product has a manufacturing defect, please email us via woocidy20210504@163.com(Tips: Please attach photos, order number and a short description of the defective products which will accelerate the process.) The period for getting a refund is usually within 7 days.