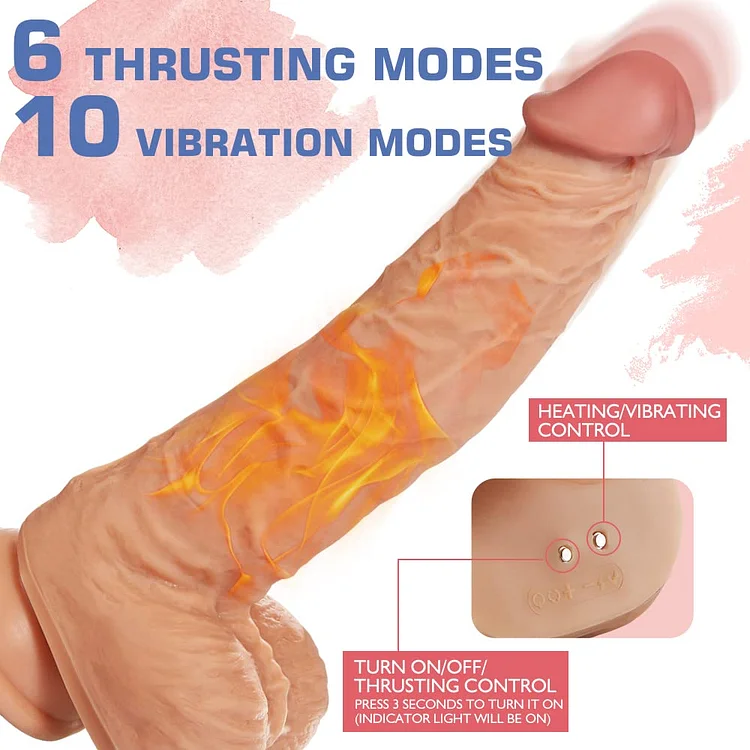 3 Functions Realistic Dildo:
Unlike other easy-damaged dildo, this one has upgrade motor with multithreading operation, you can choose each of the function or have it work together. To help you enjoy the mind-blowing orgasm, we designed vibrating and thrusting for internal and external stimulation!

6 Telescoping & 10 Vibrating Intensity Level:
Multiple combinations for you to opt for! You can enjoy every different movement traces and pick the perfect settings for you. So many patterns avoid big jumps between mode to mode. This dildo will alter your perception of sexual pleasure forever.

8.6"Auto Pilot G-spot Dildo:
The vivid glans, simulating veins and lifelike testicles bring you a strong visual impact! Plus it has 0.6-inch telescoping length, which can totally satisfy your need and go deep in your lady bits!

Luxury High-Quality Sex Toy:
Made of liquid silicone with double layers, the vibrator has the most advanced motor equipment and battery are adopted to ensure the machine-stuck rate lower than any other dildos on the market and take much resistance than others


Arbitrary Combinations
This dildo may be the first one that can control every single function as you like. Separate control helps you enjoy the thrill from foreplay to climax!
Vibrating-External stimulation as a warm-up function for clitoris and nipple, with multiple intensity levels and different frequencies to tease your sweet spot!
Telescopic-Internal thrusting will move like a real man, the upgrade motor ensure the consistency of the powerful moving when it's inside, delivers body shaking orgasms every single time!
Heating to 107.6℉-For the ultimate lifelike experience, warm the dildo up to body temperature before you begin. Add a few drops of your favorite lubricant for maximum pleasure!
Together-The most powerful dildo is drilling deep inside your body!
Product Size: 9.05" in total length, 8.07"insertable,5.11" at the largest girth.
Product Material: Liquid Silicone
4 Length Available Dildo
Try it as a non-function dildo to control the speed on your own! Turn it off and click the switch to adjust the length, we designed this for different body-shape woman, and you can also use it to mimic your lover's length!
Adjust it to the most fittable length, and turn on the heating function, sucked it to the wall, floor or bathtub edge, you can master the dildo as you wish!
Why Choose Our Dildo Vibrator?
Multi-thread control motor: you can use it as a manual dildo with a length-adjustable function, from 6.3 inches to 7.1 inches, you can find a suitable insert length for yourself! And all the functions can work alone, if you don't need heating or you are new to electric dildo, you can only use one or two functions at a time!
Made of silicone: the touching feeling is almost close to the real one, warm, soft, and body-friendly!
Vivid Details: not your body can enjoy this sex toy, your imagination can be full by all the designs, the bulges and veins can bring you more pleasure when using and satisfy your visual sense!
Rechargeable: the first charge needs 2 hours and can be used for at least 45 minutes, please make sure that the light is on when you connect the charger, if not please make sure you are connected with positive and negative poles, the remote control also need be charged.
Due to batch problems, there may be a rotating function of the dildo. If you have any questions, you can consult the seller
Shipping
Free Shipping Over $99
4 ~14 days fast delivery ( USA, Canada, Australia, The United Kingdom, France, Germany, Spain, Italy )
5 ~16 days delivery for other European countries
7~ 20 days delivery for the rest of the countries
100% discreet packaging (There would be a normal box outside our packaging.Neither company name nor product name would be seen on the box, So, you don't need to worry)
Due to the impact of the COVID-19, the shipping may be delayed. However,we will do our best efforts to deliver the package safely and quickly.If you have any questions during this period, please contact us at woocidy20210504@163.com.
The shipment will be arranged within 36 hours after the order has been placed. As soon as the Logistic company provides us the tracking number, SANMEI will provide it to you via email. (usually takes 48-72 hours)
Returns & Warranty:
We offer returns or refunds for arriving damaged or defective items. Damages caused by improper operation, overused abrasion and disassembling the product are excluded from our warranty terms. If you're experiencing the defects, please email our Customer Support at woocidy20210504@163.com
We offer a 30-day no risk money-back guarantee and 45 days manufacturer warranty. Refunds and replacements for damaged or defected products within 30 days after the delivered date. If you feel your product has a manufacturing defect, please email us via woocidy20210504@163.com(Tips: Please attach photos, order number and a short description of the defective products which will accelerate the process.) The period for getting a refund is usually within 7 days.