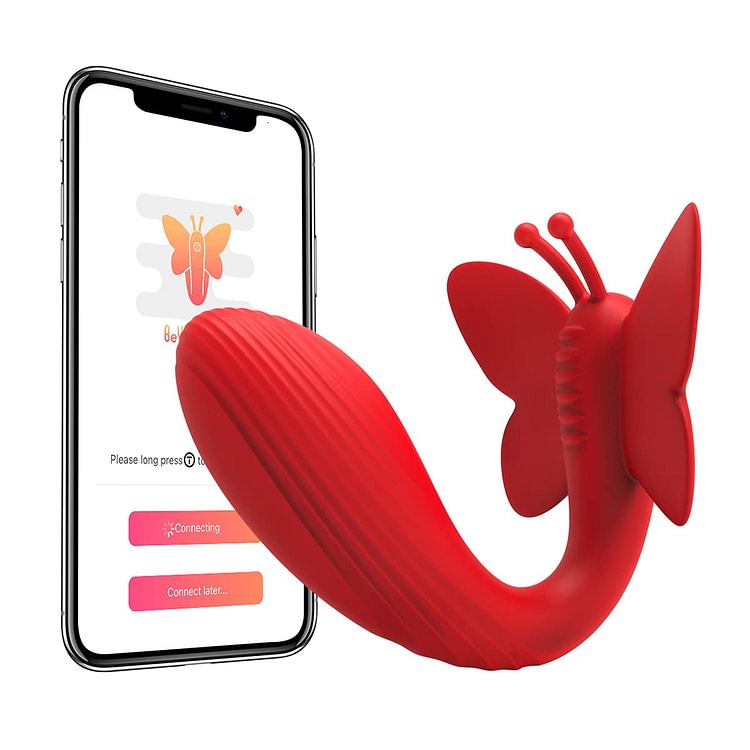 【APP REMOTE CONTROL & MANUAL CONTROL with 11 Pattern Vibrations】
Download Beyourlover APP on Apple Store or Google Play (IOS & Android) to enjoy our G Spot & Clit Vibrator. 11 vibrating modes per your request from love you tender to wild sensation, help you achieve mind-blowing orgasm. This female vibrator will maximize your sexual pleasure and enhance your masturbation to reach new level, smarter and happier than ever! ALSO, THIS WEARABLE VIBRATOR CAN BE MANUAL CONTROL.
【Super Long Distance Wireless App Remote Control】
No matter where you are, this vibrator allows you to interact with your partner; thanks to its wireless technology, he/she can control it remotely in real-time, regulate the vibration intensity and speed from gentle to strong via APP. Enjoy ToyCod butterfly vibrator sex toy anywhere in the world.
【Wearable Panty & Powerful Clitoris and G-spot Stimulator】
Invisible wearable Design, perfect for foreplay and outdoor fun. Unforgettable multiple clit orgasm + g-spot orgasm, its 3 cm/1.9 inch thin, g-spot tail is comfortable to wear and leaves room to share the vibration with your partner during penetration as well.
【USB Rechargeable & 100% Waterproof-】
USB rechargeable, waterproof vibrator. IPX7 Waterproof to use in shower or bathtub. Fast, easy, stable USB charging capability. Always ready for your next on the road session.
You can use as a Personal Massager, Bullet Vibrator, Vibrating Egg, Clit Stimulator, Love Egg Vibrator, Dildo Vibrator, Finger Vibrator or as a Classical G spot Female vibrator for women and even as male vibrator. Its versatile design allow all kind of stimulation! Our vibrator sex toy is made of safe, healthy, odorless, skin-friendly silicone.
Videos:
ToyCod Vibrating Wearable Panty Vibrator for Couples with APP Remote Control
Have you heard of the butterfly vibrator? It's a vibrator that incorporates fingering and licking. Basically, while your partner is down there licking your clit, he simultaneously uses a finger to stimulate you internally.
Exactly — Vanesia provides clit stimulation while also giving you some further action a bit more south. The butterfly is specifically designed to make your clit stimulated to the maximum. It covers your vulva wholly while focusing its vibrations on the clit.
Use lube, It'll help the toy slip in place, and the experience will be far more pleasurable. You can use the butterfly any way you want really, either solo or with your partner.
Love without Distance by ToyCod Vanesia APP & Manual Control Butterfly Vibrator
Vanesia comes with 11 various vibrational patterns and speed options, which you can change remotely by phone. Basically, unlike other stimulators, it's a toy that fully focuses on your clit. In my experience, it does that job impeccably. On top of that, the butterfly wings stimulate your secret garden, so you get all-round action!
Vanesia can be controlled by APP & Manual, you can hand over the remote to your partner and let him handle your business. It's a great way for people who are into B-D-S-M to hand over control to their partner. Even if you're not into it, you can incorporate the vibrator into your foreplay routine. It will get you going and ready for sex.
Since it's a hands-free toy, you can wear it in your underwear around even if you're not home or far away from your lover. Love without Distance by ToyCod Vanesia APP & Manual Control Butterfly Vibrator.
Beyourlover App Remote Control Butterfly Vibrators --- It can worked as sexy vibrating panty
Let desire take flight with this erotic panty vibrator with 11 flirtatious vibrating speeds and pulsing patterns.
Explore the possibilities of Butterfly Effect while flying solo or with your partner, who can control every tantalizing vibration using Beyourlover APP.
Either way, your body will flutter with satisfaction!For Android system
search Beyourlover on Google Play.
search Beyourlove on Apple Store.
How to use App Super long distance remote control?
Charge Vanesia Butterfly vibrator when you receive it.

Long press button T to turn it on. Turn on the Buletooth of your phone, then connect to Beyourlover App.

Click Remote Mode and create a Room ID.

Share thee Room ID to your partner, even he or she is in different city, country, let partner has control of the speeds and patterns make for a fun time.

You could break off remote control whenever you want.
Soft & Bendable Butterfly Vibrator

Vanesia Butterfly Vibrator is so soft and bendable to your shape for endless pleasure without the discomfort. Easy to fit, good for couples.

IPX7 Waterproof Design

ToyCod vibrator for women is 100% waterproof cause the whole toy is covered with silicone, you can enjoy it the shower or bathtub to have more wet fun. For sure cleaning is so much easier for its diveable design.

Convenient USB Rechargeable

With built-in battery, you can easily recharge Butterfly vibrator with the included USB charging cable. You can charge your vibrator by connecting to your phone charger, computer, power bank or car charger. You can enjoy about 1.5 hours of play time after it's fully-charge
Vanesia Werable vibrating panty! Real Experience!!!
1. This remote vibrator is fun around the house and works floors up or down and even different cities. It's great to get the mood started and tease until your partner is ready for a night of breathless wet pleasure.
2. We had so much fun with this out in public. I wore it while he had the App remote. We couldn't wait to get home and rip our clothes off!
3. It's so powerful works very good made me cam in less than a minute I love the different speeds it's nice and soft.
4. Omg I love the butterfly affect it fun with or without a partner. With a partner u can give them the remote and let them have control of the speeds and patterns make for a fun time and also by yourself sense every thing touching skin with vibrate including the antennas of the butter fly which are perfect for clit play. Just amazing all around.
Shipping
Free Shipping Over $99
4 ~14 days fast delivery ( USA, Canada, Australia, The United Kingdom, France, Germany, Spain, Italy )
5 ~16 days delivery for other European countries
7~ 20 days delivery for the rest of the countries
100% discreet packaging (There would be a normal box outside our packaging.Neither company name nor product name would be seen on the box, So, you don't need to worry)
Due to the impact of the COVID-19, the shipping may be delayed. However,we will do our best efforts to deliver the package safely and quickly.If you have any questions during this period, please contact us at [email protected].
The shipment will be arranged within 36 hours after the order has been placed. As soon as the Logistic company provides us the tracking number, SANMEI will provide it to you via email. (usually takes 48-72 hours)
Returns & Warranty:
We offer returns or refunds for arriving damaged or defective items. Damages caused by improper operation, overused abrasion and disassembling the product are excluded from our warranty terms. If you're experiencing the defects, please email our Customer Support at [email protected]
We offer a 30-day no risk money-back guarantee and 45 days manufacturer warranty. Refunds and replacements for damaged or defected products within 30 days after the delivered date. If you feel your product has a manufacturing defect, please email us via [email protected](Tips: Please attach photos, order number and a short description of the defective products which will accelerate the process.) The period for getting a refund is usually within 7 days.