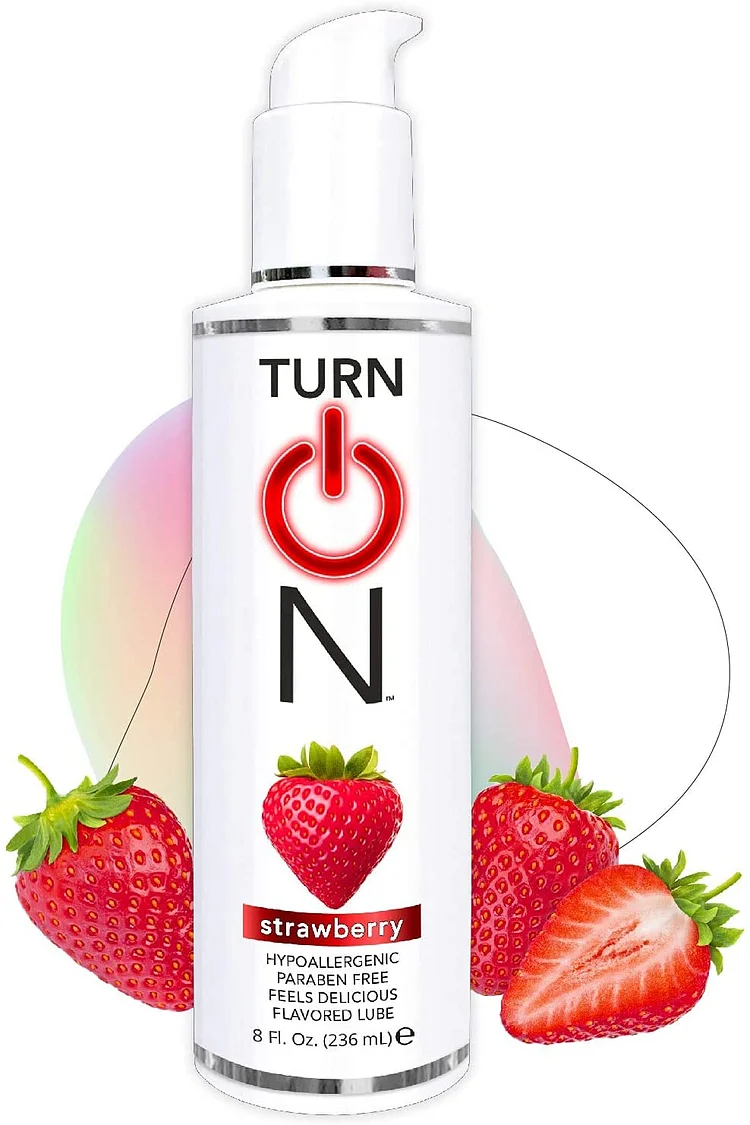 Tasty & Fun:
Turn On Strawberry Flavored lube has the same refreshing taste of a nice juicy strawberry with no weird aftertaste you may have experienced with other flavored lubes. And it easily washes off, is stain-free, and leaves behind no unwanted residue such as other lubes you may have used meaning that you can concentrate on the fun important things without worrying about anything

Moisturizing Formula:
Turn On's Strawberry Flavored lubricant is specifically designed to moisturize and rejuvenate your skin while being used

Condom-Safe & Toy-Friendly:
Our formula is latex friendly so you can have fun while being safe; Turn On Strawberry Flavored Lubricant is safe to use with all common toy materials

Hypoallergenic:
Our Paraben Free formula is hypoallergenic and free of petrochemicals, hormones, and perfumes; As an added bonus – It's also sugar free!

Discreet & Sleek Packaging:
All products are packaged with no markings on the exterior; Our bottles all have a clean, sophisticated look with no adult-oriented imagery that may draw unwanted attention.

Tasty & Fun
Turn On's Strawberry Flavored Sex lube tastes like the real thing, with no bitter aftertaste, odd fragrances, or stickiness that takes you out of the moment. Its fun and fruity taste will keep you and your partner wanting more, while being sugar free means you can enjoy every delicious drop guilt free.
Easy Clean & Non-Staining
Play all you want without interrupting your private time to worry about a mess. Our formula is easy to clean up and won't stain your sheets. When you're done, simply wipe away with a damp towel for easy cleanup.
Easy Clean & Non-Staining
Toy Compatible
Condom Friendly
Discreet & Sleek Packaging
Moisturize and Rejuvenate
Turn On's Strawberry Flavored lubricant is specifically designed to moisturize and rejuvenate your skin while being used. Just like lotion, once it is rubbed into the skin, the lubricant will become clear, smooth, and won't leave behind any unwanted residue.
Hypoallergenic
This personal lubricant is paraben free, making it perfect for those who want the gentlest formula to use on their bodies. All of our formulas are free of Petrochemicals, Hormones, Perfumes, Parabens, and common allergens, leaving you free to enjoy the moment.
Shipping
Free Shipping Over $99
4 ~14 days fast delivery ( USA, Canada, Australia, The United Kingdom, France, Germany, Spain, Italy )
5 ~16 days delivery for other European countries
7~ 20 days delivery for the rest of the countries
100% discreet packaging (There would be a normal box outside our packaging.Neither company name nor product name would be seen on the box, So, you don't need to worry)
Due to the impact of the COVID-19, the shipping may be delayed. However,we will do our best efforts to deliver the package safely and quickly.If you have any questions during this period, please contact us at [email protected].
The shipment will be arranged within 36 hours after the order has been placed. As soon as the Logistic company provides us the tracking number, SANMEI will provide it to you via email. (usually takes 48-72 hours)
Returns & Warranty:
We offer returns or refunds for arriving damaged or defective items. Damages caused by improper operation, overused abrasion and disassembling the product are excluded from our warranty terms. If you're experiencing the defects, please email our Customer Support at [email protected]
We offer a 30-day no risk money-back guarantee and 45 days manufacturer warranty. Refunds and replacements for damaged or defected products within 30 days after the delivered date. If you feel your product has a manufacturing defect, please email us via [email protected](Tips: Please attach photos, order number and a short description of the defective products which will accelerate the process.) The period for getting a refund is usually within 7 days.